Butcher block countertops are a popular choice for many homeowners. Understandably so. The natural beauty of wood offers a stunning appearance and warmth to your kitchen or bathroom. The variety of
wood species
and
types of finish
allows for customization that can match any decor – ranging from elegant to rustic, but always timeless.
If you're in the process of remodeling your home or embarking on a new construction project, and you're considering a butcher block countertop, this guide to the pros and cons of wood countertops will help steer you through the decision making process. While a butcher block requires a little more care and attention than other options, the maintenance is well worth the effort.
The Pros: Wood Countertop Strengths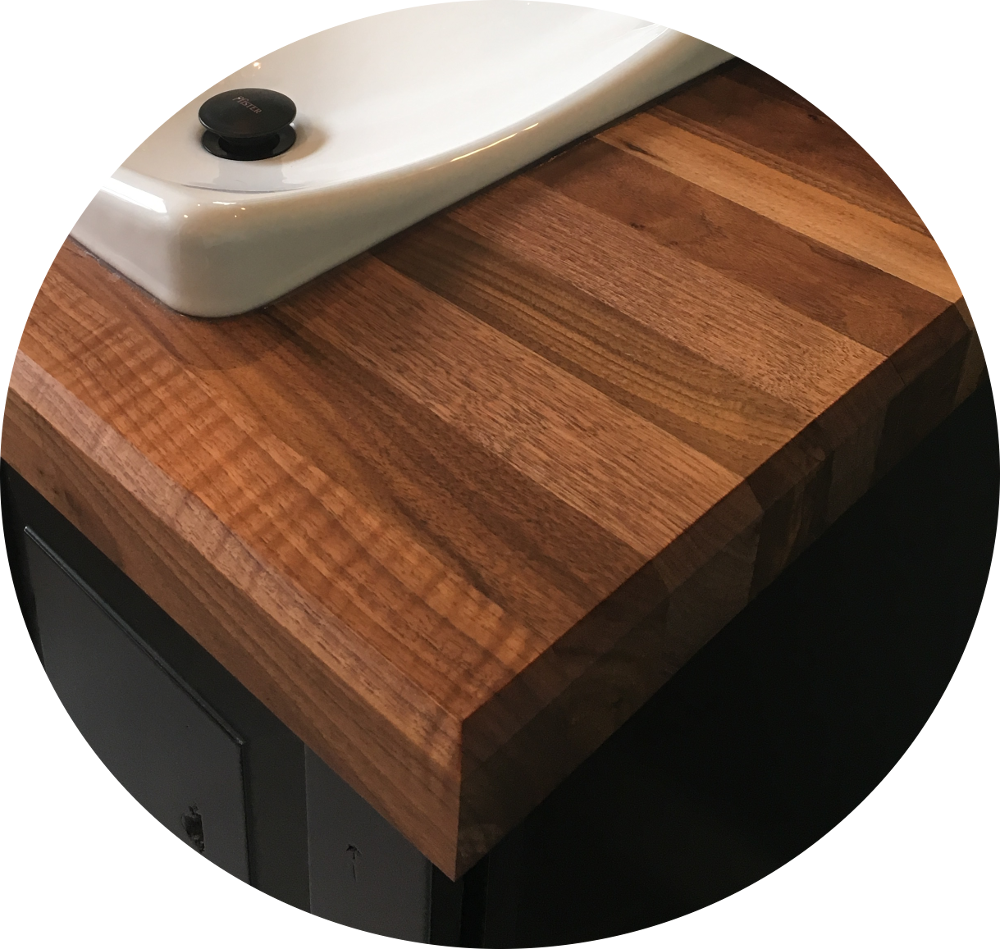 Stunning Appearance
Wood is beautiful. A
custom butcher block countertop
is a show stopper. It provides a wow factor that few other materials offer. Additionally, wood is highly customizable and can complement a range of design styles. It instantly adds a welcoming warmth to any room.
Variety of Wood Species
Butcher block countertops are typically fashioned from hardwoods. The variety of wood species offers a lot of versatility for remodels and new builds. Black Walnut is chocolatey and ages gracefully. White Oak has a neutral light brown coloration. Hard maple is a light blonde with a tight grain pattern. Mountain Cherry is strawberry blonde with darker highlights providing an interesting contrast. Each of these woods can alter the vibe of an entire room in a unique way.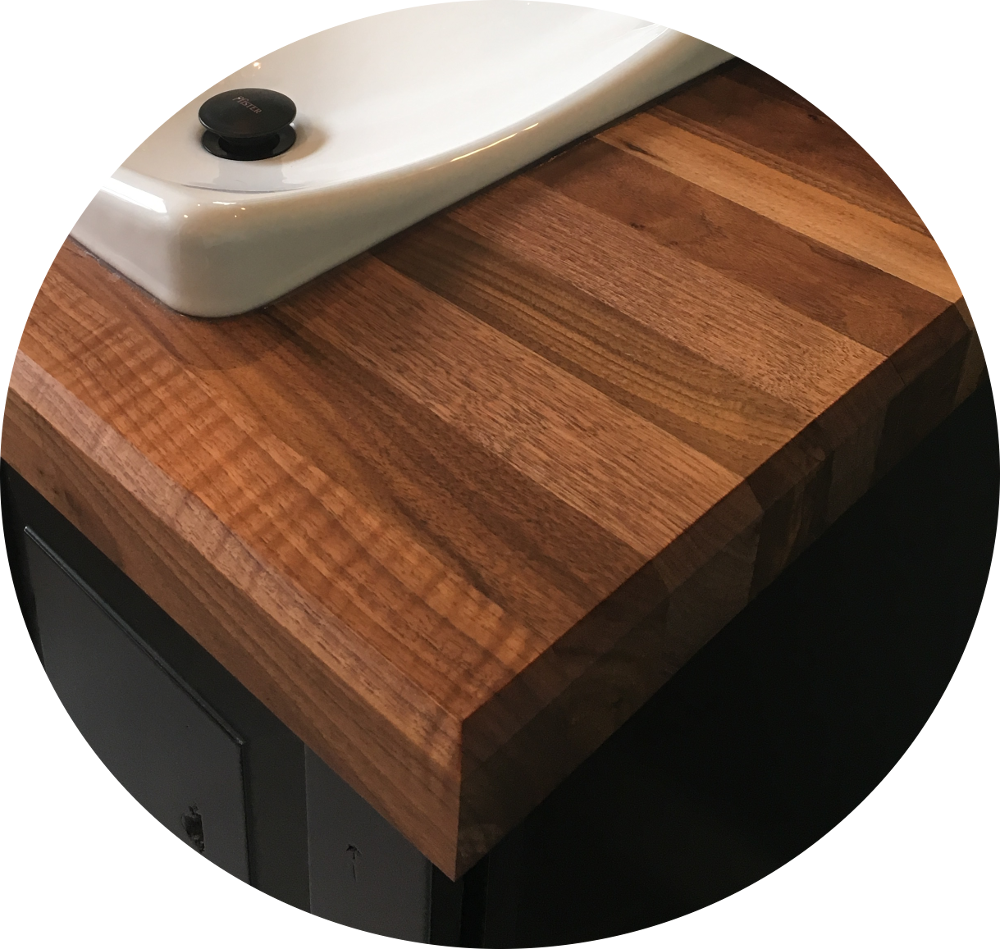 Finishing Options
There is a variety of finishing options that complete the look and feel of a wood countertop. Finishing oils and varnishes enhance the depth of color and grain of the wood. In addition to providing a stunning look, finishing serves to protect the countertop from water and surface damage. Another finishing option with wood countertops is
edge profile
. Wood countertop edges can be treated in a number of ways that offer a further element of customization. Each finish imparts a different feel to the top, giving a whole different character to the same piece of wood.
Works With Any Design Style
Wood enhances any style of decor. It can be elegant, modern, contemporary, or rustic. There is a timeless element to wood that allows it to accompany any home with versatility.
View our gallery
to see how wood countertops are capable of agreeing with whatever style you choose for your home.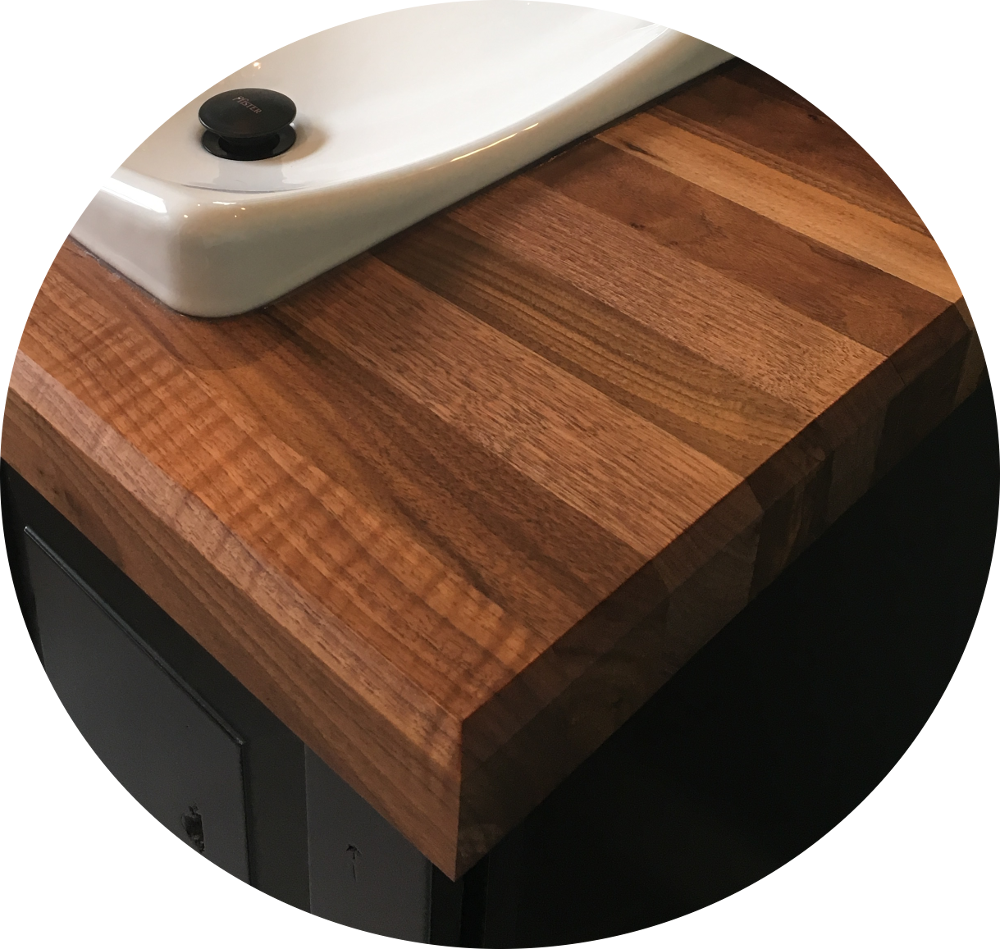 Warmth
When we say that wood is warm, we're not just referring to the welcoming way that wood embraces a room. It is actually warm to the touch. This is a much different feel than you get out of granite, concrete or tile countertops. Additionally, wood changes the way that sound interacts with a room. It adds a sensory warmth that other countertop materials are incapable of offering. When you get down to it, wood improves the feel of a room, making it a more pleasant place to spend time.
Wood is Eco-Friendly
100% of the wood we use locally sourced from sustainable mills that are dedicated to maintaining the longterm prosperity our forest resources. Unlike granite, wood is a renewable resource. Trees grow back, forests can be repopulated. Mining granite, on the other hand, leaves massive craters in the Earth.
The Cons: Wood Countertop Weaknesses
Water Damage
In its natural state, wood is not waterproof. Water damage is the primary concern for people weighing the options of a butcher block countertop over a traditional tile or granite top. This is not nearly as much of an issue as it once was. To effectively combat water damage, Walnut Wood Works offers three finishing options, each with a unique set of sealing characteristics.
Finishing with Tung Oil To Prevent Water Damage
Tung Oil is a time-tested standard. It has been used as a wood finishing agent and sealant for thousands of years. It does a decent job of waterproofing but requires a periodic top coating with beeswax to maintain a level of water resistance that can hold up in a kitchen environment. Tung Oil countertops are best suited for people who want to use their entire counter as a cutting and chopping area. The extra maintenance can be a worthwhile tradeoff to have this unique ability.
Finishing with Hardwax Oil To Prevent Water Damage
Hardwax Oil  is a new generation of high tech oil. It has been specifically engineered to form a highly water resistant bond with the wood fibers themselves. We call Hardwax Oil our 95% waterproof finish. Hardwax Oil maintains waterproofness for all daily tasks. However, if it is left wet for a few days, it has a tendency to leave a mark. You can spill water, wine, juice, etc. on a Hardwax Oil finished butcher block top with no concern for damage as long as it's cleaned up.
Finishing with Conversion Varnish To Prevent Water Damage
Conversion Varnish is another high tech product that has changed the way that a butcher block countertop is cared for. Conversion Varnish is 100% impervious to water damage. We have never had a single report of water damage with a conversion varnish top. A Conversion Varnish finished countertop can be treated as any other solid surface, with no special care or maintenance required.
May Need Refinishing and Maintenance
Over time, wood countertops will show wear and tear. Many people who purchase a butcher block countertop want this. Aged wood has a character that you can't get with other materials. The maintenance of your wood countertop largely depends on the finish you choose.
Maintenance for a Tung Oil Finished Top
With Tung Oil, maintenance is ongoing, so there will never be a need to "refinish" your countertop unless you elect to sand out knicks and scratches that accumulate over time.
Maintenance for a Hardwax Oil Finished Top
A Hardwax Oil finish will require a "refresher" every 2-5 years depending on usage. This involves a light scuff sand and wiping the finish on with a rag.
Maintenance for a Conversion Varnish Finished Top
Conversion Varnish should never need to be refinished unless it's scratched through the finish, in which case a refinish may be necessary or wanted.
Scratches and Dents
Oil finished tops age with the rest of the home. They lightly scratch and dent and take on a beautiful patina that becomes part of the kitchen. We recommend that scratches or marks be sealed with Butcher Block Conditioner and left alone to add to the rich beauty of the piece. If you desire to remove scratches or stains (on an oil finished top), you can sand the imperfection out with 220 grit sandpaper. After sanding, remove all dust and apply several coats of Butcher Block Conditioner to get your top back to new condition.
Aging with a Tung Oil or Hardwax Oil Finished Top
Hardwax Oil ages very similar to Tung Oil. Scratches and dents become part of the top and add to its natural beauty. Scratches can be top-coated with Hardwax Oilat any time to bring back the protection of the original finish.
Aging with a Conversion Varnish Finished Top
Conversion Varnish is a very hard topcoat, it tends to repel scratches and dents more so than our other two finishes. That being said, it's still wood underneath and it will still scratch and dent if subjected to very rough treatment. Scratches are best treated with a light coating of beeswax.
Are Wood Countertops Right for Your Home?
This depends on the look and feel you want in your home, and to a lesser extent, how much effort you're willing to put into maintaining your wood countertop. Butcher block countertops are stunning. If you want the natural beauty of wood and are willing to spend a minimal amount of effort cleaning and maintaining your investment, then a wood countertop will be a great addition to your home for many years to come. A butcher block countertop can transform a kitchen into a work of art – and properly cared for, will outlast the home.