Floating Shelf Bracket Drill Guide Kit
41 in stock (can be backordered)
The
Bit
1/2″ Reduced shank for use with any hand drill.
High Helix design for superior ship extraction.
Drill
Depth
Our drill guide kit can be used for both our Heavy Duty and Super Duty brackets with a hole depth of 9.5″.
Wood
Variety
Our drill bits are custom designed and manufactured for drilling in Hardwoods like Oak, Walnut and Maple. 
 The
Competition
Our Drill bits are engineered for the purpose and our guide blocks are CNC milled from a solid piece of steel to exact standards. Don't be fooled a tube tack welded to a plate with an off the shelf oversized drill bit. 
.CNC
Precision
Our Bits and Guides are CNC manufactured for precision. Perfectly sized 90 degree holes every time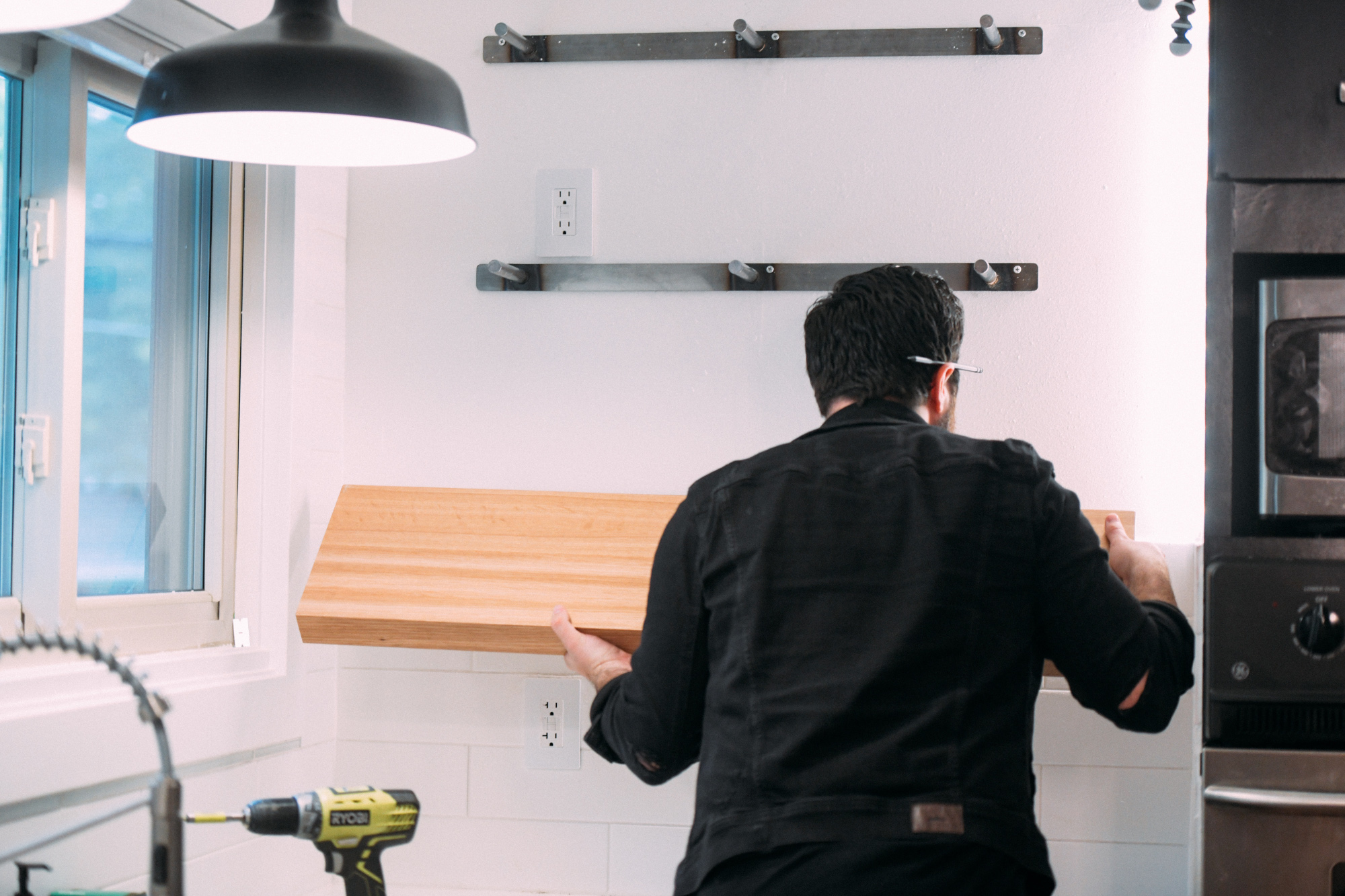 Walnut Wood Works floating shelf brackets will always be square. You can count on the precision uniformity of our products to ensure that all of you commercial or home improvement projects run smoothly. Just drill the holes, recess the shelf, and slide them on.
To take all of the hassle out of mounting floating shelves, purchase our Floating Shelf Bracket DIY Drill Guide Kit.
All of our Floating Shelf Brackets are designed to be installed completely out of sight for that true floating look. Add an elegant look to any room in the house.
Our floating shelf brackets are made with a 3/16″ steel back plate and 3/4″ solid steel support rods. The brackets have screw slots for easy installation.
Ideal for:
Kitchen Shelving
Floating Mantles
Bathroom & Laundry Storage
Floating Bookshelves
Heavy Duty Garage Shelving
American Made with American Steel
We take great pride in the fact that all of our products are manufactured from start to finish in the USA.
We start with raw cold rolled American steel that we cut, drill, grind, weld, package, and ship from our facility in in Bell Buckle, Tennessee.
That means we're always here for you. All of your money stays in the US and you're supporting local jobs with every purchase.